IN BRIEF
Vivian Maier Documentary
---
See the Vivian Maier Newsletter for the story about the new documentary. Our review of Vivian Maier's work is here.


JUDITH SCHAECHTER IN NYC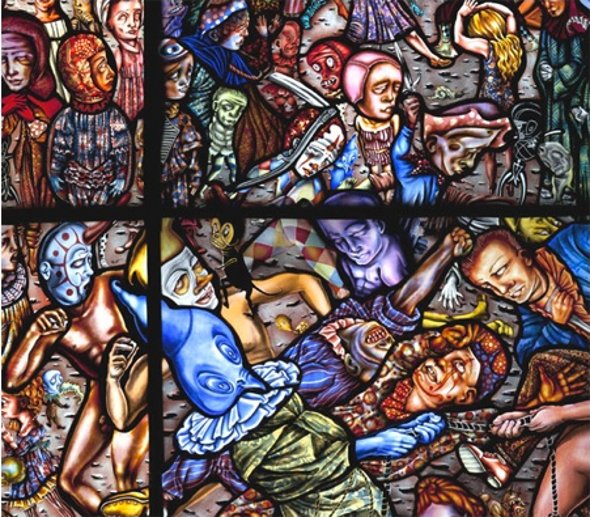 Battle of Carnival and Lent (detail)
Judith Schaechter: Battle of Carnival and Lent At Claire Oliver Gallery, NYC
This is not a review, but a pointer to the announcement of Judith Schaechter's upcoming show at the Claire Oliver Gallery in New York, where you can see the works we reviewed while they were still at the Eastern State Penitentiary site in Philadelphia. The show will be there from May 23d until June 29, and there is a reception with the artist on May 23d from 6 to 8 p.m. The Claire Oliver Gallery is at 513 West 26th St. in New York.
For more information, see the announcement, http://judithschaechterglass.blogspot.com/2013/05/esp-work-on-exhibit-opening-may-23.html; see the Artezine article for an idea of what to expect.
(permalink)
---

---
S H E L L G A M E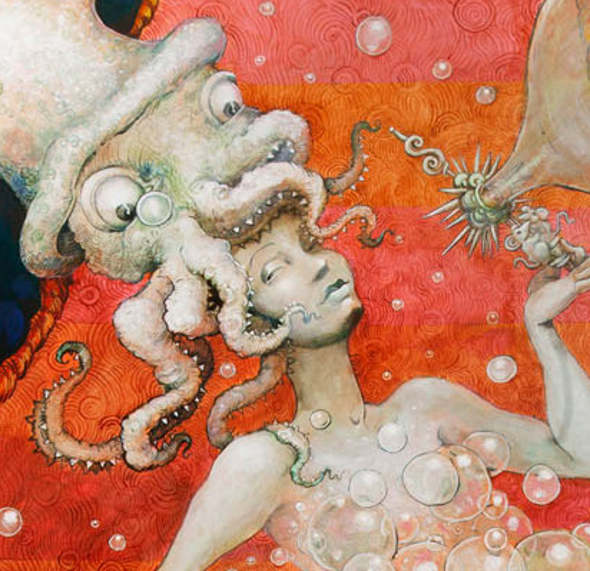 Molly Crabapple: Shell Game / Great American Bubble Machine (detail)
'Shell Game': Molly Crabapple At Smart Clothes Gallery
This is not a review, just a pointer to this show and artist, whose most recent works have been noticed in Wired, The New York Times, HuffPo, The Village Voice, and so forth. The public show opening is at 7 p.m. April 14th (this evening as I'm writing this) and is to be an Event. It will be up for only a short time. I strongly recommend it; the artist's combination of a sensuous, indeed luscious graphic style, sharp wit, surrealism, humor, and political consciousness are not to be missed.
See the artist's web site for further information.
The gallery is at 154 Stanton Street (corner of Suffolk Street in the Lower East Side) and the opening is at 7 p.m. April 14.
---

---
Thomas Lanigan-Schmidt at MoMA/PS1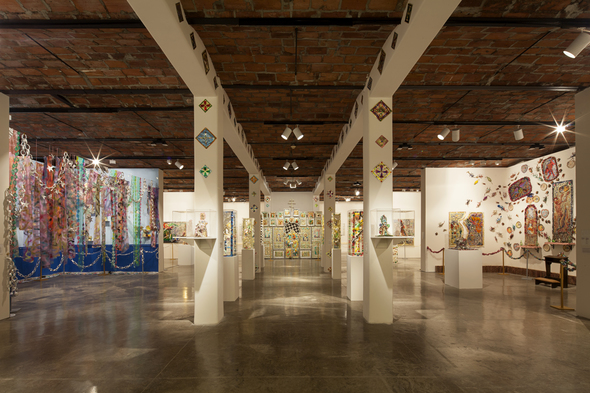 Thomas Lanigan-Schmidt: Tender Love Among The Junk (installation)
Entering this exhibition, which occupies one of the larger spaces at MoMA/PS1, was overwhelming. I don't think I've ever seen anything quite like it. The entire space is filled with numerous, mostly shiny artifacts, made of the most diverse materials, mostly things one might obtain from a 99-cent store or a trash pile. Several themes and concerns come together: formal pictorial and plastic values; religious sensibility and aesthetics; Gay and general sexuality; class politics; diverse cultures; the conflicts and cross-pollination between these elements.
(CONTINUED....)
---

---
Judith Schaechter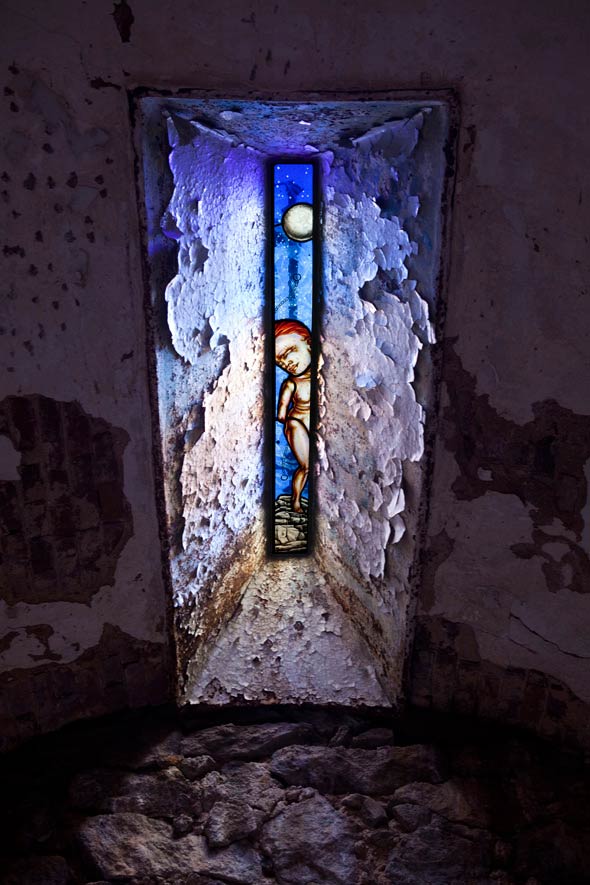 Judith Schaechter: Andromeda
at Eastern State Penitentiary
by Gordon Fitch
On a chilly day late in November, as the sun was already declining towards the horizon, I found myself within the heavy, gray stone walls of a prison, or rather the ruin of a prison....
Read about it

here!
---

---
Susan Roecker's Cat(s)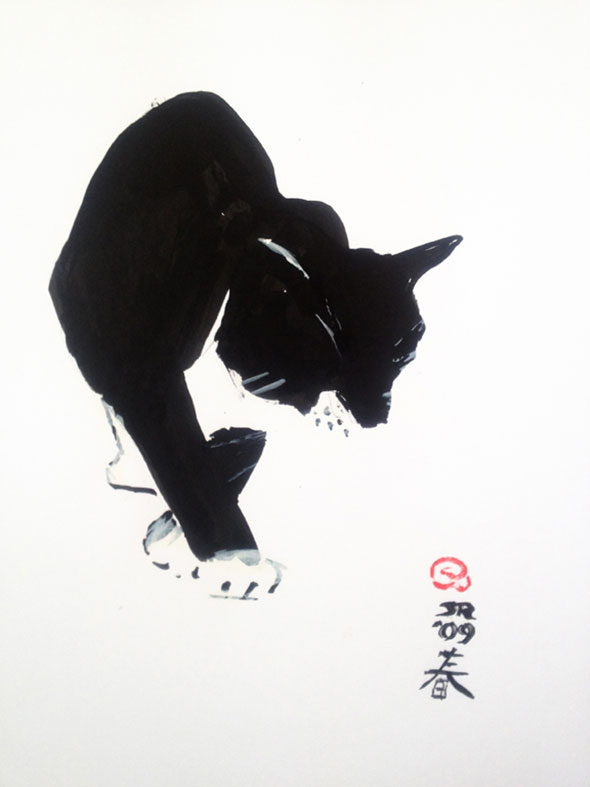 Susan Roecker
at Avenue C Gallery

-- read about them here --
---

---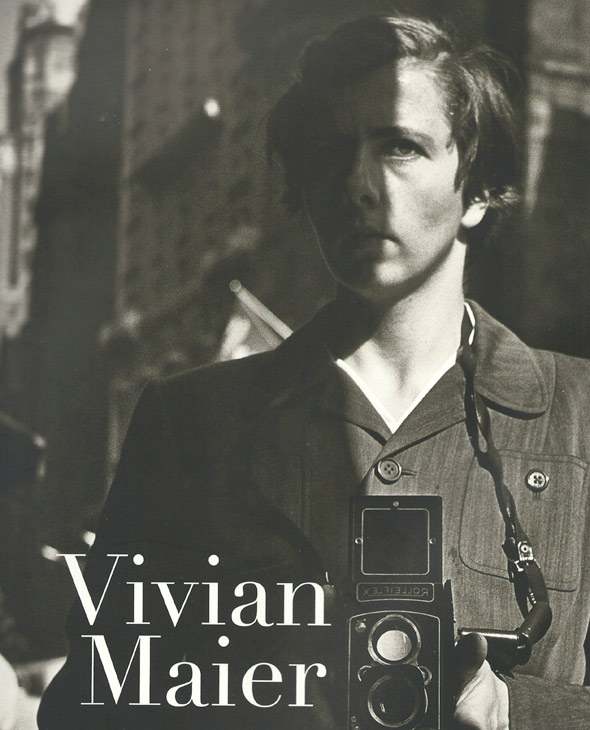 Vivian Maier: detail of book cover self-portrait
Like a figure in a dream, Vivian Maier begins to disappear even as we catch sight of her. With one ambiguous gesture she points out our world and shows us things that were always there, but which we had never seen; with another, she declines our questions and steps back into the darkness. We want to call out to her to wait, but the dream silences us, and then she is gone forever. We turn and, scattered all around us, see the objects of her work, an enormous treasure we will spend years, even lifetimes, trying to order and decode. About Maier herself, we can mostly only guess. ...

-- more --
---

---
Morgan Taylor at Art Lab Galleries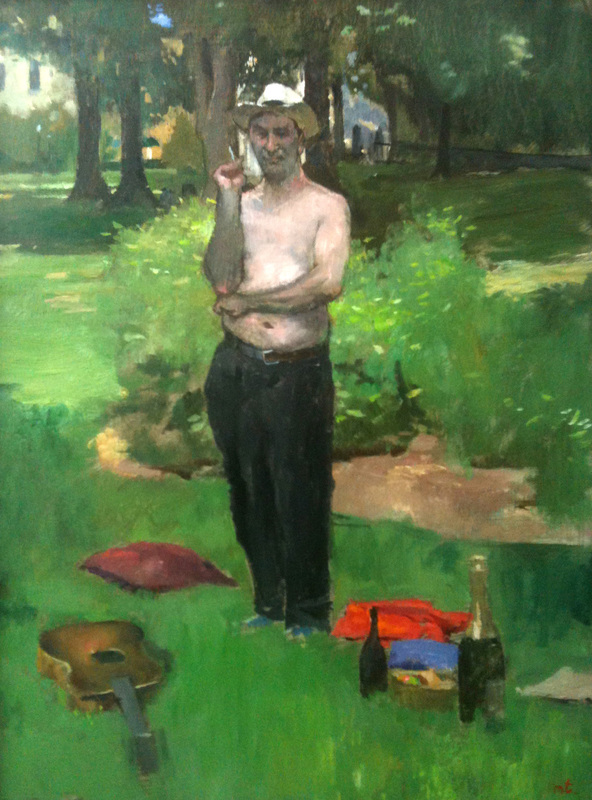 French Guy at Snug Harbor (Christophe)
by Robert Sievert
For a show of summer landscapes, Morgan Taylor's recent exhibit in the Art Lab Galleries, is not without controversy. Mostly, controversy about the light of the work. Read about it

here
---

---
Tending Toward the Untamed: Artists Respond to the Wild Garden, at Glyndor House, Wave Hill in the Bronx, from April 3 to August 19, 2012.
This is a rich and thought provoking exhibition that includes a visit to Wave Hill's Wild Garden, and highlights the work of eight artists who use technology, new media, and traditional representation. Paths through both Gallery and Garden are well worth exploring and then re-visiting as the experience builds on itself.
Continued here....
---

---
Lucian Freud at Acquavella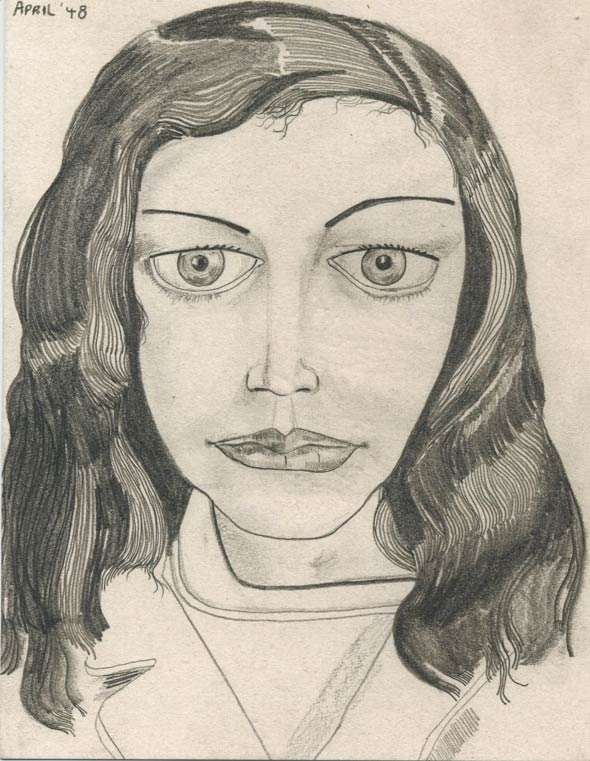 Lucian Freud: "Dark Coat II", 1948 Pencil on paper, 11 3/8 x 8 3/8 in. © The Lucian Freud Archive
A recent show of Freud's drawings reviewed here ....
---

---
Leo Kenney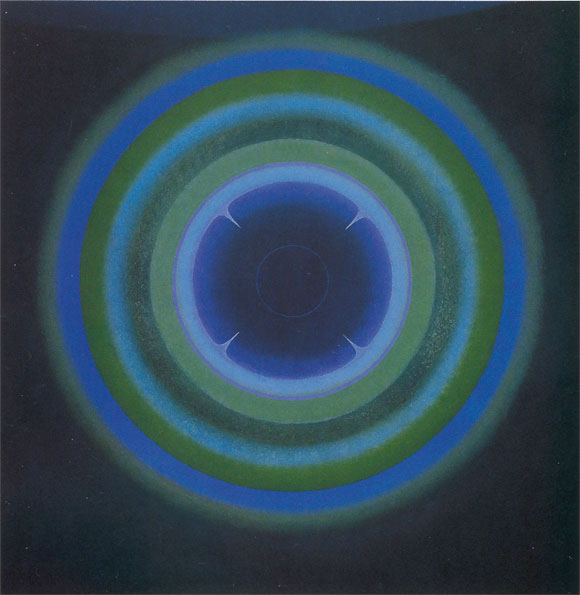 Leo Kenney: Amaranth, 1983, gouache on Chinese paper, 27 x 27 1/2 in.
Considering the case of a remarkable, now nearly-forgotten artist of the Northwest -- read about it here ....
---

---
Images from the I Ching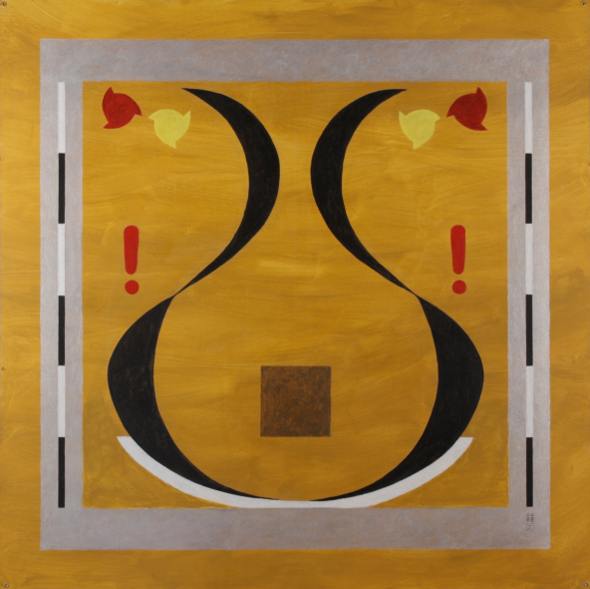 Barry Fishman: The Receptive
A review of Barry Fishman's 80-painting interpretation of the Book of Changes (I Ching), by Robert Sievert

here.
---

---
Henry Taylor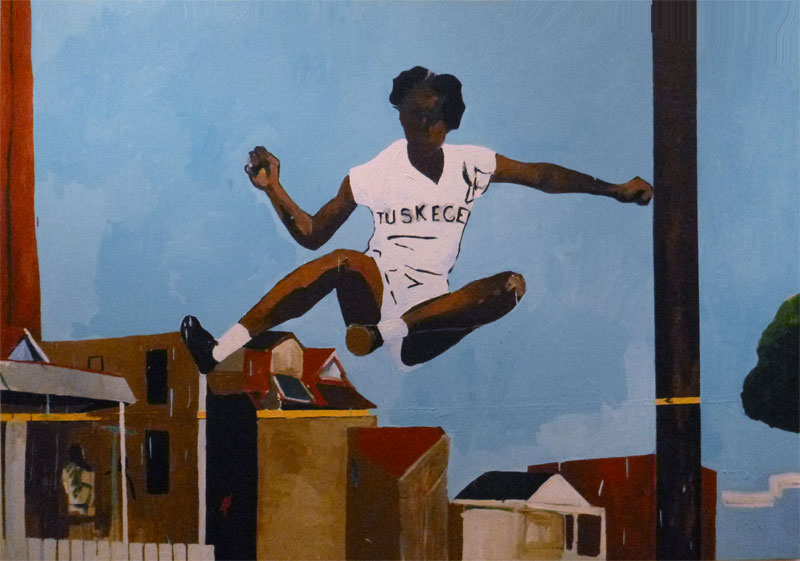 Henry Taylor: Alice
at MoMA/PS1
A review of the recent show at MoMA/PS1

here ...
---

---
C0NSTRUCTIONS OF CONSCIENCE:
THE SOCIAL ART OF SUSAN GRABEL
By Robert Sievert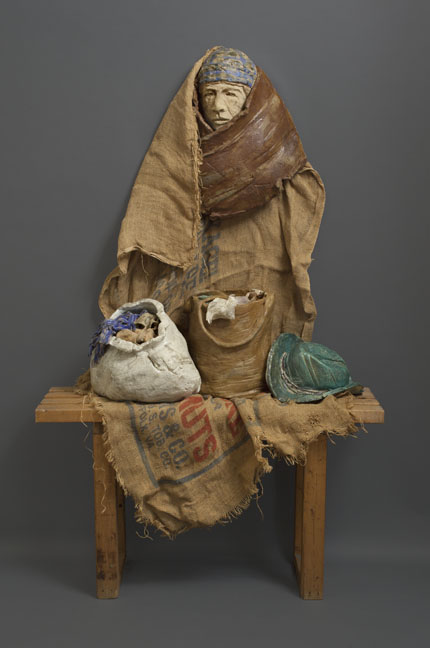 ONCE UPON A TIME (1989) clay, wood, burlap, 63 in. x 48 in. x 14 in.
Susan Grabel has amassed a formidable body of work over the past 40 years. I never understood it as an ongoing singularity until I viewed her work in a retrospective now being shown at the Staten Island Museum (January 29 through May 28, 2012). Susan is a figurative sculptor of great ability. She can model a figure with remarkable accuracy achieving form that is definitely understandably human. . . . Continued

here ...
---

---
'Stuart Sherman Reappears' Reappears
... a book review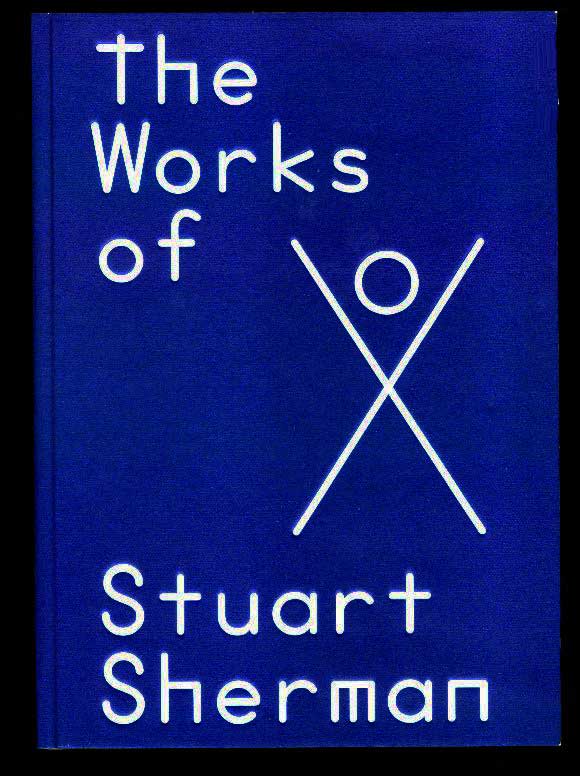 Cover
Read it

here
---

---
Lee Bontecou at Freedman Art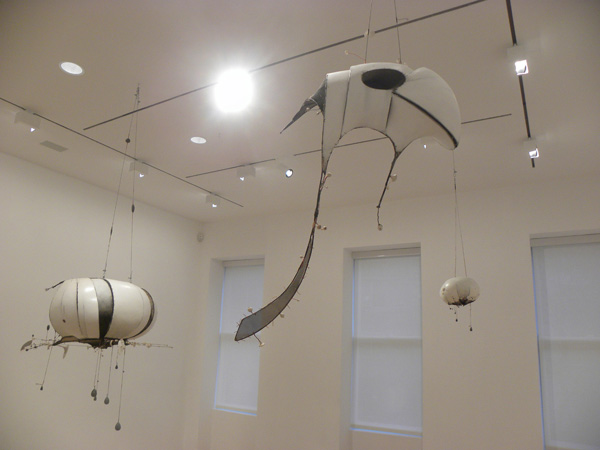 Lee Bontecou: Mobiles
Lee Bontecou, whose work was most recently seen in New York City at a retrospective at the sadly departed MoMA/Queens in 2004 and at MoMA proper in 2010, now has a small gem of a show at Friedman Art just off Madison Avenue at 73d Street in the Upper East Side, for the moment at least a locus of innovation and inspiration among the endless boutiques thereabouts which now seem mostly trapped in 1920s retro. The show will be there until February 11th.
Read more here....
---

---
George Kuchar At MoMA-PS1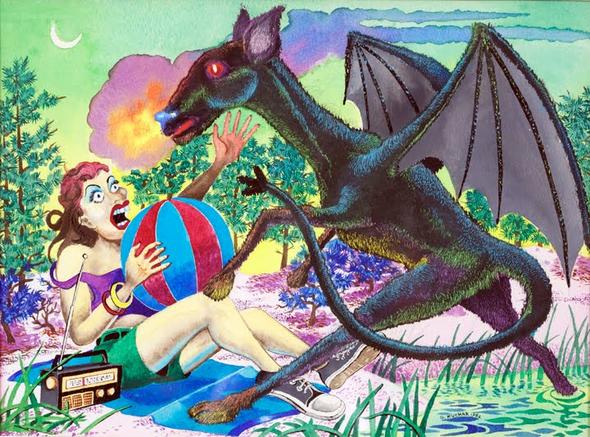 George Kuchar: Jersey Devil
George Kuchar's Pagan Rhapsody, a show of video, film, cartooning and painting designed by the artist before his death earlier this year, has come to MoMA-PS1 in Long Island City. Read about it here...
---

---

<! -- rightmost column -->
---