NINE at Saugerties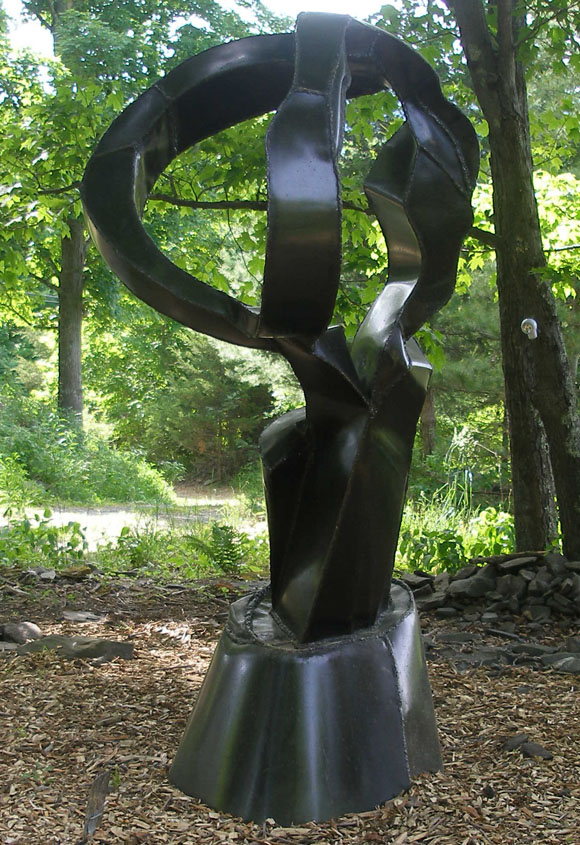 Jeffrey Schiller: welded steel sculpture
by Robert Sievert
The warm weather has bought about the outdoor art scene. Showing work outdoors can present more problems than it may seem. In a recent show NINE in Saugerties New York many of them became apparent. It is especially important to be able to isolate the artwork so that it can be seen. It would seem to be a natural event, place a sculpture in a field and voila!, art in nature. This show NINE while brave in spirit had a number of drawbacks, not every piece of art work was shown to its optimum.
NINE displayed the work of nine artist from the region. There were seven sculptors and two painters. The painters were shown on a wall of the church but deserved a better viewing spaces. Of what I could see Ruth Edwy was in command of a strong painting technique and Angela Gaffney Smith produce pristine watercolors. It was the sculpture that attracted my attention.
---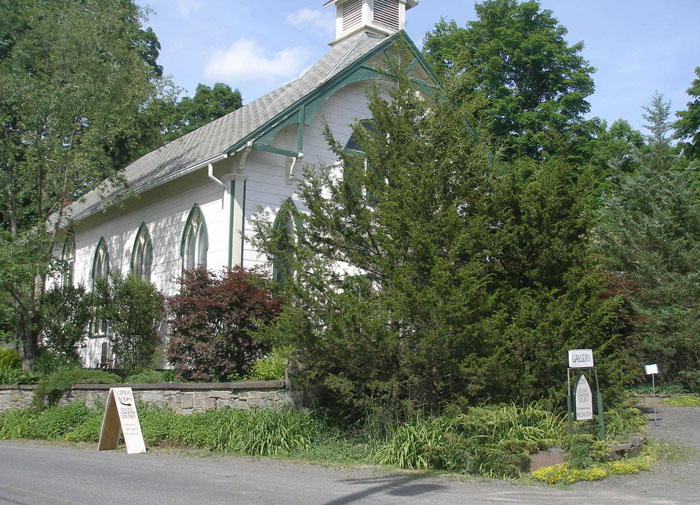 Clove Church
---
The exhibit was at Clove Church, the studio/gallery of one of the exhibiting artists, Fay Wood, who has spent the last seventeen years developing and rebuilding this country church on Fishcreek Road into an art-space. The exhibit was fit in-between Ms. Wood's studio space in the church and spread out in the accompanying four acres of Catskill Mountainside. Ms. Wood is a gifted sculptor of whimsical figures. The interior of the church/studio really was not ideal exhibition space. First it was difficult to understand exactly what was in the show and what was in the daily studio but several artists managed to isolated their work and make stylistic statements.
Once you got outside the art seemed more accessible. It was distributed over a range of woods, fields and pathways. The region is rich in bluestone. At one point the streets of New York City were lined with bluestone sidewalks, much of it from the quarries in this area. There was plenty of bluestone in evidence. The paths and walls of the church property were made or lined with bluestone. On a small hill in the rear of the building a circular bed of bluestone was laid out reminiscent of the installation art that was in evidence in the 70's. Here it seemed a more natural occurrence and was a pleasure to look at, not listed as an art installation.
---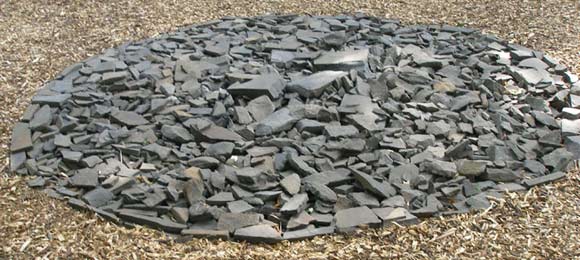 Bluestone Circle
---
Basha Ruth Nelson's had a nice corner of the church in which she installed several examples of her work. she makes sculptural forms by juxtaposing ribbons of metal bent , folded , creased and curled into a curtain of myriad reflective surfaces. It was clear that her work should be seen in much more intimate surroundings. The work is contemplative, All of her surfaces are highly reflective and shinny. There is a metallic sensuousness at play here.
---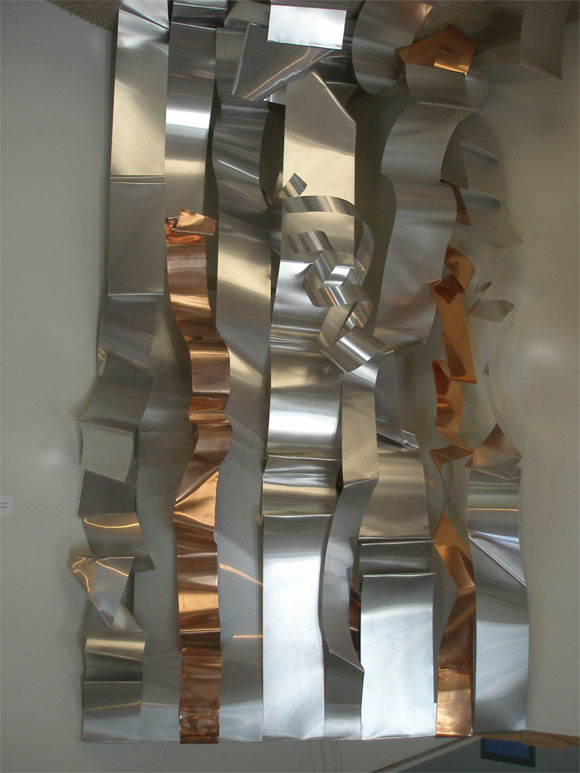 Basha Ruth Nelson
---
There was plenty of Ms. Wood's work to be seen. The problem was distinguishing what was in the show and what was her workspace. Her presence as an artist was everywhere. She makes eclectic assemblages. A very witty dragonfly was suspended overhead and must serve as the designating example of her work.
---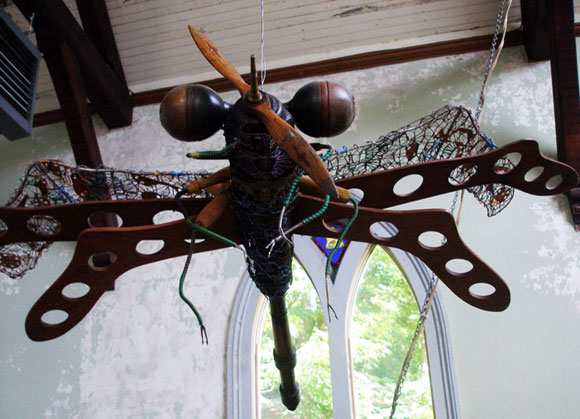 Fay Wood: Dragonfly (mixed media)
---
Also on view inside the church was the very polished work of Alex Kventon. Perhaps the most finished work in the exhibit his sculptures had very refined surfaces on abstract form. One piece was finished in highly polished stainless steel that had a mirror-like surface. It was hard for me to precieve the form of this work as the reflections defied ones perceptions. Much more successful was a golden disk broken into sections that could be read as anthropomorphic forMs. On this piece the artist has varied the surface with changing patinas that created visual richness.
---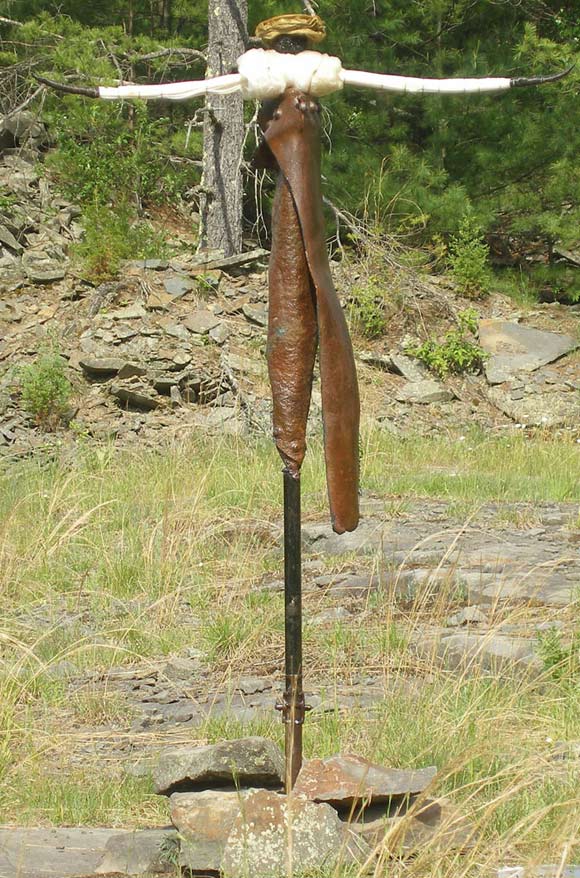 Michael Ciccone: metal sculpture
---
The exhibit continued outside on the grounds that were mixture of wood, fields and landscaped gardens Showing sculpture might seem to be an easy thing to accomplish, however this show proved that to be an erroneous statement. Some work was set in openings of the woods and other work in open spaces. I found it difficult to get a good take on the work of Michael Ciccone. He showed work that combined found metal objects and stone welded into eclectic forMs. The easiest to identify was set in an open field. Atop a metal shaft a skull like form was crowned by what seemed to be a set of longhorns. This had a totemic demonic effect, almost a defiant presence. His other work seemed more concerned with basic form such as his two stones balanced on a forged steel construction. The problem I had was that some of it disappeared into the surroundings. Ciccone's sculpture has an attractive physical heft but was not always easy to distinguish the finished form. I think he is someone better suited for indoor formal presentations.
---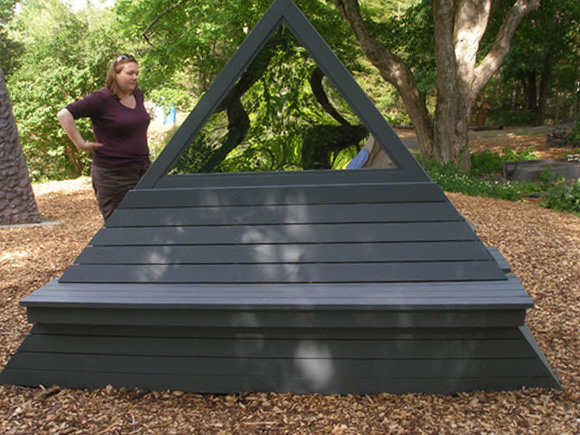 Anthony Krauss: Bench
---
Anthoy Krauss produced a pyramid like construction that was also a bench carefully crafted out of wood with a mirror set into the upper section. The mirror reflected the surrounding woods so that the piece had environmental dimensions. He likes setting mirrors into suprising elements, nearby a tall concrete pyramid also was topped off by a mirror
---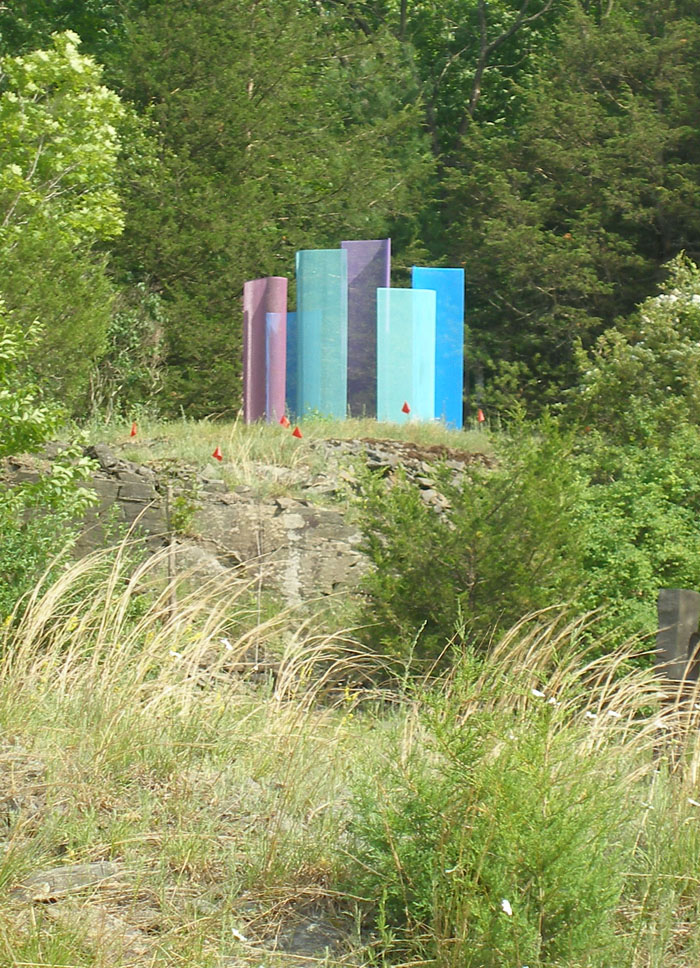 Shelley Parriott: colorfield sculpture
---
When I first saw Shelley Parriott's work up close it raised a lot of questions in my mind. She assembled a series of transparent color panels made of some plastic material so that they overlapped and the colors varied as you looked through the construction. It was quite large and I couldn't quite figure out if the changing hues were worth the effort of assembling this structure. However later when I walked to the field below and looked back at the hill where her work stood I was quite impressed with the strength her work had that carried across a considerable distance. Her work dominated and changed the character of the entire hillside.
I must admit that my reason to visit the exhibit was to see the work of Jeffrey Schiller. In the spirit of full disclosure I must say that I own a number of Schiller's sculptures and I have always admired the ability of Schiller's large welded steel sculptures to dominate a natural environment making it most satisfying to view. There is no question of his work being able to dominate a space. His work has a core strength of form that is both powerful and at the same time physically reassuring. One feels safe in the presense of these large metal works.
---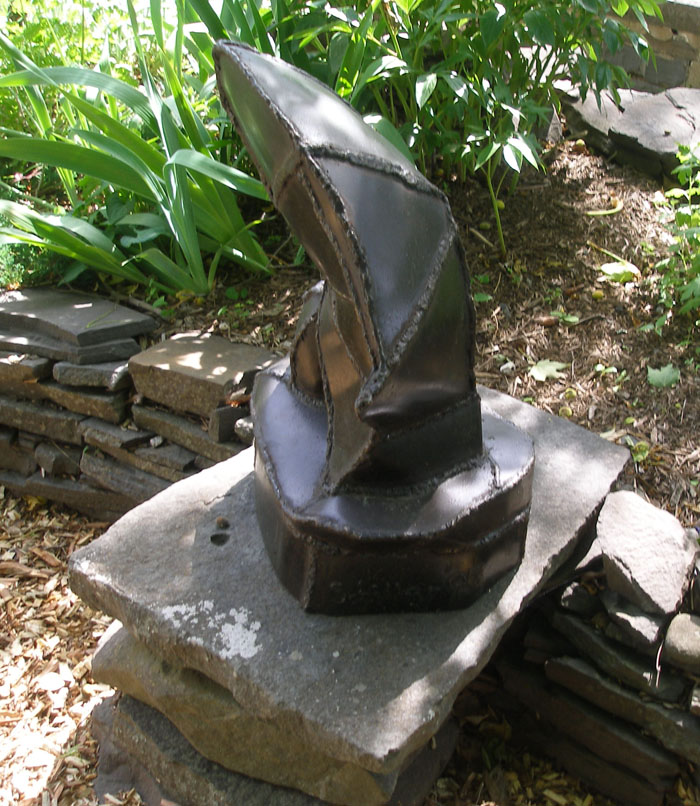 Jeffrey Schiller: welded steel sculpture
---
There was evidently a lot of effort put into this exhibit. These sculptures were massive and the settings remote. Every artist was of professional quality. I think the message here is that this area really needs an exhibition space worthy of the talents of these artists. If they continue to use Clove Church a lot more effort is needed in clarifying the exhibition space.