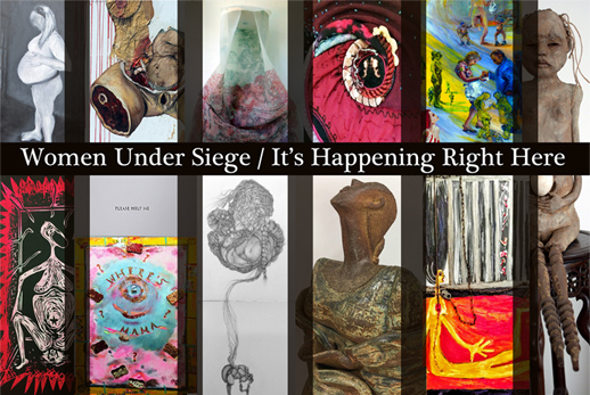 Women Under Siege

Women Under Siege: It s Happening Right Here by Susan Grabel, Curator
In January, Ceres Gallery presented an exhibition curated by artist Susan Grabel addressing the sexism and misogyny contained in laws across the country being used against women. "It's happening right here," Grabel says, "in the exceptional USA, not just in Third World countries."
Women are under siege from misguided legislatures and law enforcement agencies in many parts of the country. Under the guise of protecting the fetus, women are being persecuted, forced to undergo unwanted and unwarranted medical procedures, confined against their will to hospitals, imprisoned for having miscarriages as well as for using substances while pregnant even if, like methadone, they are prescribed by a doctor.
Women are being punished for the outcome of their pregnancies. The potential life of a fetus is deemed more important than the life and well-being of the mother.
Women are also under siege from an antiquated criminal justice system that does not take into account the realities of domestic abuse and its impact over the course of time. Child abuse laws are being manipulated so that abused women are being punished because they couldn't protect their children and often given more jail time than their abusers.
In Gallery I, Grabel chose the stories of 25 women whose circumstances illustrate these issues. She invited artists to acquaint themselves with a particular woman's story and to create an artwork in response to it. Participating artists: Pauline Chernichaw, Loren Dann, Anne Drager, Everet, Phyllis Featherstone, Susan Grabel, Melanie Hickerson, Elizabeth Featherstone Hoff, Judith Hugentobler, Mary Anne Kinsella, Marilyn Kiss, Helen Klebesadel, Stephanie Kosinski, Marjorie Kramer, Tania Kravath, Barbara Lubliner, Lynne Mayocole, Ann Marie McDonnell, Christine Mottau, Denise Mumm, Perri Neri, Ruth Bauer Neustadter, Kristi Pfister, Rhoda Pierce, Elizabeth Downer Riker.
Ceres' 50% commission on all sales will be donated to National Advocates for Pregnant Women and The Women in Prison Project of the Correctional Association of New York.
In Gallery II, artist Francine Perlman presents an installation, Doors Open, Doors Close that speaks to the plight of women who have escaped domestic violence only to find themselves in shelters and often in poverty. Doors, some open and some closed, are the main supporting and thematic element of the installation which incorporates collages and text made by women living in domestic violence shelters, during workshops given by the artist.
Curator's Statement for the Show:
I am a sculptor and printmaker and have done work on social issues for many years. I became aware of the criminalization of pregnant women in 2013 when Ceres did an exhibition, Meet My Uterus, about the assaults on womens reproductive rights across the country. As part of the programming for this exhibition, we invited Lynn Paltrow from National Advocates for Pregnant Women to speak at a panel discussion. As I was researching the issues, I also became aware of the criminalization of survivors of domestic violence.
I found myself both shocked and outraged by the sexism and misogyny implicit in laws on the books and those that were being passed in many states being used against pregnant and abused women and I felt compelled to tell these stories.
I chose the stories of 25 women and invited artists I knew to choose a woman whose story resonated with them and do an art piece in response to it. The results are here in the gallery in painting, collage, printmaking, drawing and sculpture.
There were some privacy concerns about using the names of the women but many of the stories were well publicized so many artists felt comfortable using the names. We were also able to get in touch with some of the women and obtain their permission. Some artists chose to use initials or other labels instead of the woman s name but the stories are here.
We invite you to bear witness.
— Susan Grabel, Curator
Images from the Exhibition:
---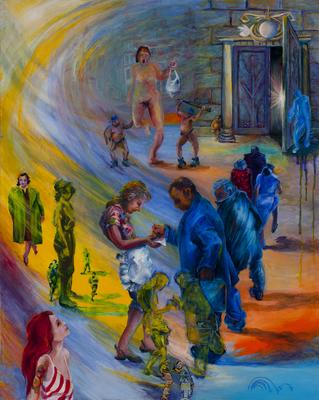 Melanie Hickerson: Winds of Change (acrylic on canvas, 22x28)
---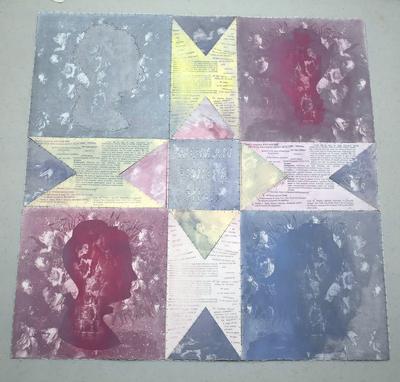 (Ann Marie McDonnell: 'People v Jorgensen, The Opinion of the Court', solar print, silver thread, 24.5 x 24.5
---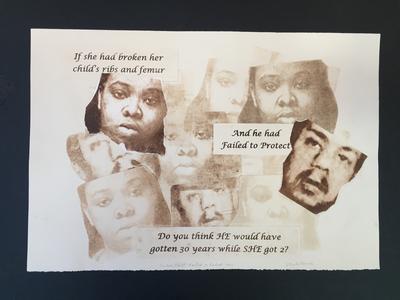 Susan Grabel: Tondalao Hall - Failed to Protect #2 (15 x 22, paper lithograph collage)
---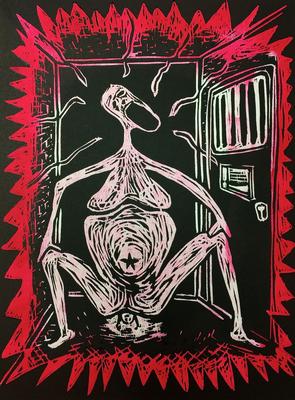 Anne Drager: Birth_in_Jail (woodcut, 12 x 16)
---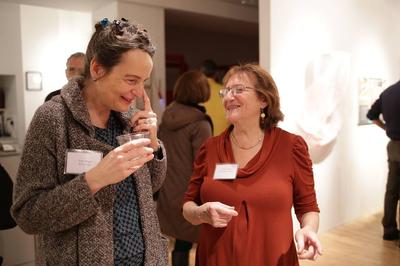 (At the Opening: Anne Drager, Susan Grabel)
---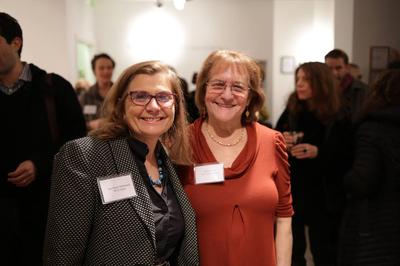 (At the Opening: Ann Marie McDonnell and Susan Grabel)
---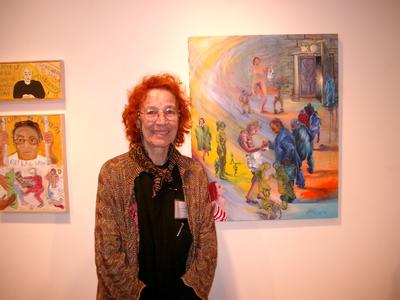 (At the Opening: Melanie Hickerson)
---
---